Background:
Ellen from Toronto, Canada recently spent two weeks on a volunteer assignment at Ikaki Bagh

Ellen's mission was to provide advice on micro-enterprise opportunity and development with the local women of Jhinjha Village

In turn, the assignment provided a rich and enjoyable experience of rural India, sprinkled with special encounters and thought-provoking observations. This is Ellen's story.
Observations and Experiences at Ikaki Bagh and Jhinjha Village
In January of 2019 I spent two weeks volunteering with Jaideo Rathore, (JD) the founder and Director of Ikaki Bagh, a farm demonstrating organic, sustainable farming practices and, through relationships with local tour operators, and volunteer programs, supporting the adjacent village, Jhinjha, to improve their infrastructure and economic situation.
As a retired Canadian professional with experience assisting NGOs in various parts of the developing world–with program development, and proposal writing, particularly in the areas of building capacity and economic independence of women – JD was interested in how I might assist him with his interest in improving the economic situation of the Jhinjha women.
Ikaki Bagh
Ikaki Bagh started in 2014 and provides a sustainable model for small-scale farmers to emulate.
Over the past five years JD, with the assistance of two local staff who live and work at the farm, has developed the farm from a large tract of arid, weed-covered land, to green, verdant fields. Vegetables, mustard, wheat, millet and other grains are grown without chemical pesticides and fertilizer.
Fields are fertilized using the dung from the resident cows and horses. JD has planted many varieties of fruit and medicinal trees, installed solar panels and has built a large modern building, including rooms and bathrooms for short-term and overnight guests.
There is a large open-air dining room used for tourists who visit the farm to eat a sumptuous, healthy lunch, where vegetables come from the local garden. These visits, which include a tour of the village, provide support to the village, through the proceeds of the meals purchased, and donations to the village.
Jhinjha Village
Jhinjha is comprised of approximately 600 Berwa and Meena people.
In this community, typical of rural Indian villages, there are significant social disadvantages, with limited access to education, reliable income, economic opportunities, essential facilities and infrastructure.
As in most of India, women's roles are limited to domestic tasks, agriculture, and caring for the goats and cows. Many of the men have the mobility and social support to seek work, both locally and in Jaipur.
However, the women have little means of earning anything but a pittance, through activities such as stringing beads making mala garlands. A village woman typically makes five garlands a day for a return of 50 Rupees ($US0.75).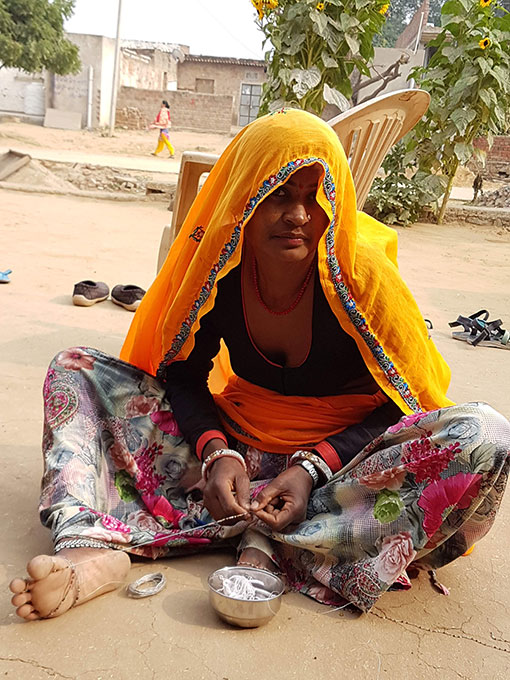 Economic possibilities for the Jhinjha women
JD has been interested in developing micro-enterprises for women's economic benefit (making local handmade goods for purchase, including placemats and embroidered pouches, pickles/chutney, and spice mixtures, e.g. spice to make masala chai tea).
Longer term opportunities possibly include bee keeping/sustainable honey collecting, and kite making.
This would allow women, and possibility youth who are finished with High School but have no means of employment, to engage in training and small production projects. Over time they would earn a more sustainable income, and gain skills in finances, leadership, organization, project management as well as technical skills related to an individual project.
The products can then be marketed to the many tourists who come through the successful and busy https://ikaki.in/niwas/, developed by JD in his family home in Jaipur.
Village encounters
Spoken word exchange was limited due to the lack of English of the villagers, and my lack of Hindi and the local dialect. However, our non-verbal communication, supplemented by Google Translate on my smart phone led to some wonderful encounters underpinned by the trust having been built with JD, humour, and curiosity.
The teens and children were very intrigued by me, a source of novel entertainment.
Since visits were on weekends or holidays, when the children were not in school, I was constantly followed by small entourage between 5 and 18 yrs old.
Some of the older boys had some basic English and were happy to practice it in order to show me around and introduce me to their family. It seemed everyone was an aunt/uncle, cousin, or grandfather. This demonstrated the close family ties of the village, many of which were blood ties, and some of which were family ties in practice, if not actual.
On my first visit, I was sitting on a rock on the outskirts of the village (JD having had to go back to the farm to talk to a contractor) watching the building of a new house (most families are moving from cane and thatch structures to brick and aluminum roof structures). A young girl appeared and soon it was clear she had been sent on a reconnaissance mission to see who this short, gray haired foreigner was!
Since I was friendly and tried to engage, several other young people came over to chat, and I ended up getting invited to a nearby house (the "uncle" of one of the teens). There I was served chai by the woman of the house and was quickly surrounded by relatives and neighbours.
Another highlight was when two volunteers from the US, who were working on the farm, did a walk through the village with JD and I, and we were plied with freshly made millet chapattis (flour and water kneaded and patted into a flat disk, the baked on a wood burning clay oven) and goat yoghurt from the local flock.
It was very heartwarming to see the friendliness, openness, and generosity of the people, and the pride with which we were offered this food, the daily staple.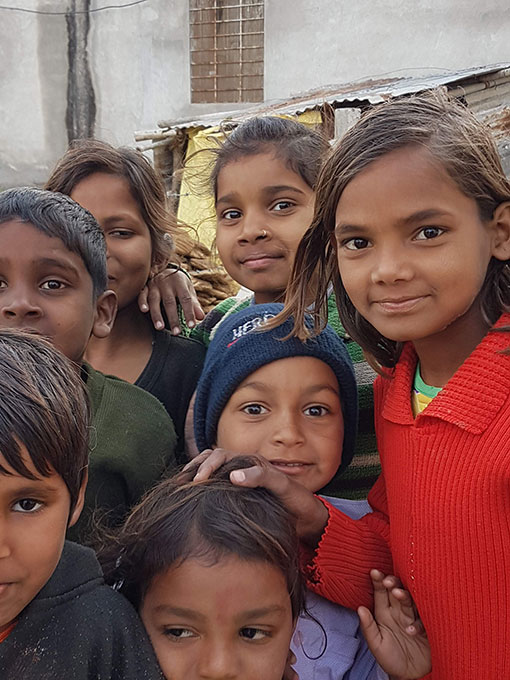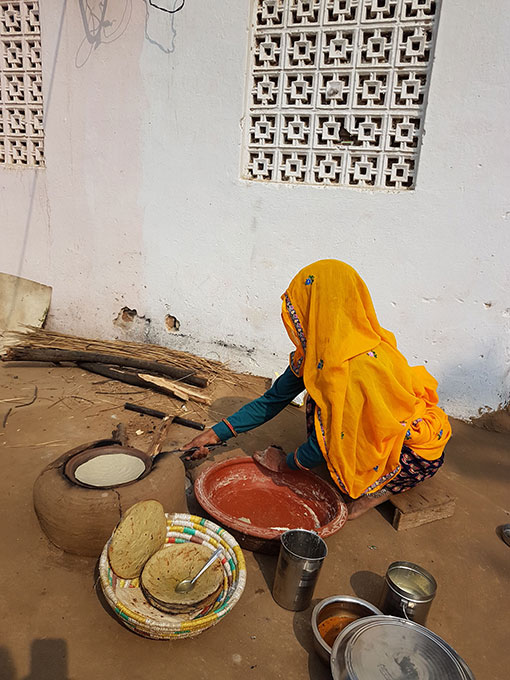 Time visiting the local school
On another occasion I had the privilege of participating in Republic Day celebrations held on 26 January every year. Children from all levels of the school put on skits, Bollywood dances, and read poems and stories.
They were watched raptly by the rest of the younger children sitting in straight lines (and very disciplined compared to children I have worked with in primary schools!) on the ground in front of the stage.
A group of Italian tourists and I were honored with a Bindi (the Hindu ceremonial coloured dot on the forehead) and garlands of flowers, presented by the children. The tour group then presented the children with new soccer shirts, bought locally. The school is obviously a focal point of the village, and a source of pride. One of the past volunteer projects was improving the infrastructure of the school, including painting it in bold colours.
Micro-enterprise opportunities for women
Another thing that struck me was the modesty of the women, who veiled their faces when their adult male relatives or community members were present. For example, the women watching the Republic Day performances, most with veils over their faces seemed quite timid as fitting their "role."
However, when given the chance to talk (through JD as the translator) about their interests in projects and production, many of the women were very enthusiastic. They talked about the fact that they can produce many different things, and could be trained in skills they don't have now.
One woman demonstrated her beautiful fabric woven from old Saris, which seemed to have great potential for placemats or coasters, in terms of appeal to tourists.
As a first experience in India, I found my time with Ikaki Bagh and Jhinjha to be rich and enjoyable. It is rare to have the opportunity to interact with a rural village where there is a trusting relationship developed through past support. There seems to be a true openness to sustainable practices demonstrated by the farm.
Since 70% of India lives in rural villages, doing a "typical" trip in Northern India (which focuses on cities such as New Delhi, Jaipur, Agra-Taj Mahal and Varanasi) misses out on this fascinating aspect of Indian life.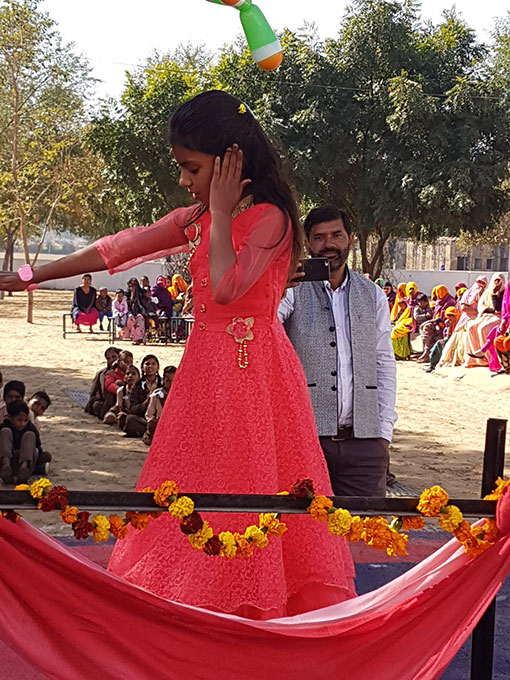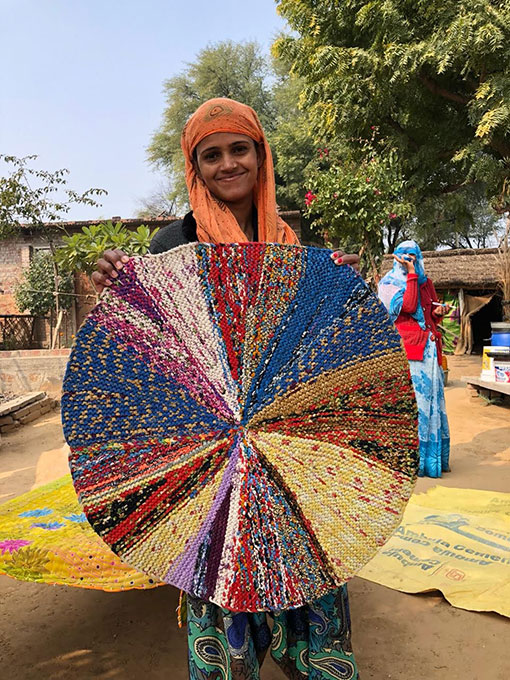 Where to from here?
The opportunity to provide a new way to link tourists to rural village life through supporting Jhinjha by buying the products made by the women villagers, is an exciting prospect.
My work has only just begun. Now, back in Toronto, so far from Jaipur and Jhinjha in every way, I am turning my mind to how to assist from afar. I am experienced and realistic about what is involved in converting well-meaning intentions and goodwill in to practical step by step empowerment and enhancement for socially disadvantaged rural women.
If the saying that "a problem well-stated is half-solved" is true, this provides a good foundation to JD's interest in assisting the local women through small production projects.
I am thinking hard about how I can capture the key elements of developing projects on paper, to seek funding, and to hopefully have a small part in catalyzing the talents and energies of the Jhinjha women.