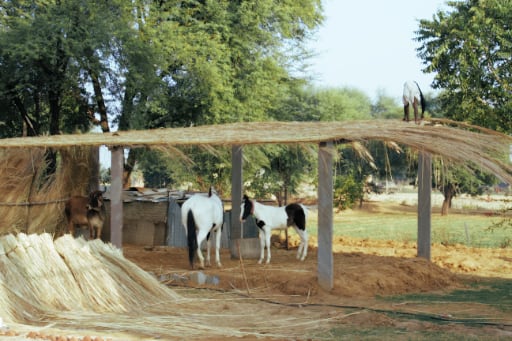 Meet Noori, Titly and Toofan – the pride of Ikaki Bagh
The Marwari Horse is distinctive to the culture and history of Rajasthan.
Three Marwari horses live at Ikaki Bagh. They are beautiful symbols of the goals of the farm and the larger commitment towards ecological restoration.
Visitors to Ikaki Bagh are welcome to spend time with the horses. There are opportunities to explore the local countryside by horseback.
Why the Marwari horse is historically important?
The Marwari horse originates from the Marwar region in the state of Rajasthan, in the northwest of India.
The Marwari is thought to have been bred around the 12th century AD where it quickly became a favourite of the martial clan, the Rathores. The Rathores ruled the Marwari region from their capital city of Jodhpur, to the immediate west of Jaipur.
The breed, with its distinguishing marks is well represented across early historical periods of painting, especially miniature painting, albeit in a secondary role to elephants.
During British Rule, Indians were heavily discouraged and often forbidden from riding Marwaris.  The British favoured their own Arab bred horses and associated the Marwari with the Hindi caste system.
The number of Marwari horses declined significantly during the British rule,  a trend that continued after Independence.
By the early 1990s a government survey estimated that only 500 to 600 specimens remained, revealing the Marwari to be on the verge of extinction.
This low point triggered a remarkable 'call to arms' to save the Marwari, as an 'Indigenous Indian horse breed' with a proud and noble history. Organisations were formed to save the Marwari from extinction with breeding, research and education programs, including with both government and private sector support.
Stocks of Marwari are on the rise again with a focus on the historically admired attributes of speed, stamina and suitability for arid conditions. The breed was trained to behave with great bravery in battle conditions and its handsome bearing are as highly valued today, as they were historically.
Marwari Characteristics
The standout physical characteristic of the Marwari is distinctive inward curving ears, seemingly almost meeting at the tips. The origin of this striking appearance is unknown but is recognisable in examples of early Mughal miniature paintings.
The Marwaris physical characteristics are commonly listed to include:
Various colours including Black, Dark Bay, Bay, Chestnut, Palomino, Buckskin, Piebald, Skewbald and Grey

An average height of between 154 and 164cm.

Elongated head

Slender neck and distinctive withers

Long back with a pronounced croup

Legs are slender with well-formed and extremely hard hooves

A tail that is typically set high
The breed is also prized for its striking presence and 'doe-eyed' beauty in females. This is accentuated by the Marwari being a naturally gaited horse with a four-beat lateral gait. This gait is smoother in appearance and substantially more comfortable for a rider and horse in trying conditions such as long-distance desert travel.
Today, this four-beat gait makes the Marwari a favourite to be trained to 'dance' to be part of weddings and many festivals.
Marwari at Ikaki Bagh
Ikaki Bagh has three Marwari horses:
Noori, a nine-year old mare and whose name means 'very good to look at' in Hindi

Titly, an eighteenth month old colt meaning 'Storm' in Hindi

Toofan, a recently born two-month foal meaning 'Butterfly'
Noori was bred in Central Rajasthan and bought with Titly at foot from a horse fair at the famous pilgrimage town of Pushkar on the edge of the Thar desert.
The horses were bought for Ikaki Bagh for two main reasons.  Firstly, Jaideo Rathore has a direct family heritage to the Rathore caste that ruled Marwar and originally developed the Marwari.
As importantly, the horses are a strong, symbolic reminder of when historic, rural India lived in better ecological balance. By working together, with a focus on living in organic harmony with the land, we can slowly achieve the ecological restoration for the district around Ikaki Bagh.
The use of horses in local farming has long given way motorbikes. The modern-day Marwari is also financially out-of-reach of most farmers.
Guests visiting Ikaki Bagh will find a unique pleasure in meeting Noori, Toofan and Titly. The horses are quite approachable and full of character.
Experienced horse riders are welcome to contact us to arrange a guided horse-riding tour. This would be with locally trained, standard-bred horses.