Visit
Ikaki Bagh, located in rural countryside is approximately thirty minutes, south-east of Jaipur City near the villages of Jhinjha and Devgaon.
Learn More
It is ideal for a day trip from Jaipur or suitable for an overnight or multiple night stay.
The farm is easily accessible by car or by bus and can be found using Google Maps.
Ikaki Bagh is an ideal opportunity to unwind and experience the daily life of rural India and the simple beauty of the local environment and habitat.
Unwind and experience rural India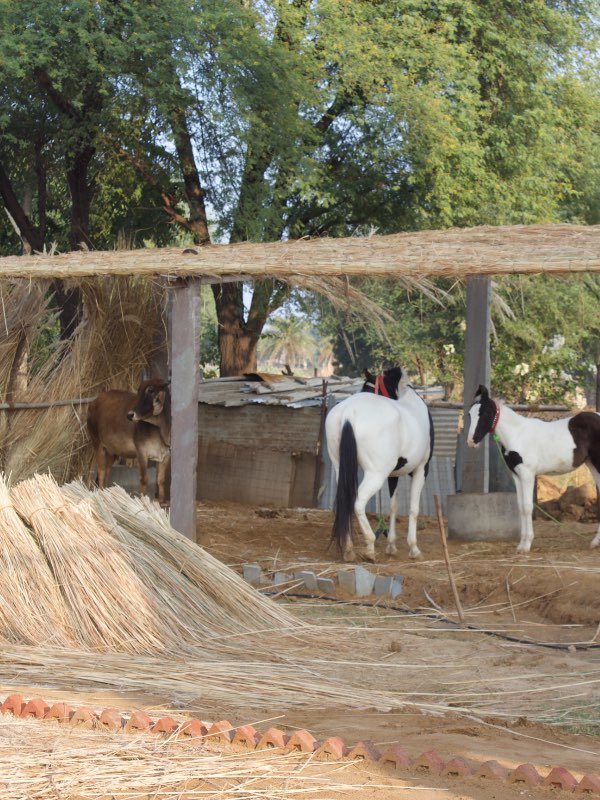 Ikaki Bagh uses Vastu Shastra, an ancient design practice focusing on layout, ground preparation, spatial arrangement and 'energy flow' for land.
At Ikaki Bagh you can experience:
a 6 ha. farm under diverse organic crop cultivation
a variety of fruit trees and shrubs
an experimental plot of chrysanthemums for the cut flower market
a start-up medicinal plant garden
talks on the traditional and historic use of trees and plants.
Marwari horses, a special breed unique to Rajasthan, milking cows, chickens
camels (by arrangement)
local food cooking classes
demonstrations of mustard oil production and use
a preliminary training and education facility
a diverse countryside of with mixed farming and land use
composting ideas
the serenity of rural India at night and the beauty of the night skies
ecological construction techniques
a wide range of birdlife
wildflowers in season
local honey collecting
reliable access to wi-fi
pushbikes and local maps are available
You will also enjoy a countryside environment dotted with villages and mixed farming as well as local features such as the revered temple of Krishna, Jagdish temple at Goner or local brickworks making bricks from local clay soil.
Your visit can also be timed to coincide with significant local festivals such as honoring Baba Ramdevji, a folk–deity of Rajasthan and Krishna's birthday, at which you will be welcome to observe or join in.
You can become a supporter and help create opportunities through your experience.
Ikaki Bagh is within easy walking distance of the local primary school.
As your host, Jaideo will introduce you to the school teachers and children of the school. Here you can view the classrooms, play environments and other facilities that help the school operate on a day to day basis, including reading classes in English.
Tourists will gain an understanding of the challenges facing rural school children and see first-hand initiatives sponsored by Ikaki Bagh to improve hygiene, basic infrastructure such as tables and chairs, education and social development opportunities for children.
Ikaki Bagh is also walking distance from Jhinjha, the local village of Bairwa people.
Berwa are one of the lower castes of India, formerly known as 'Untouchables' and today known as 'Dalits', and noted for their humility and hospitality.
A visit to Jhinjha enables you to:
Experience daily village life including many traditional practices.
Understand the skills and challenges the village uses to manage water.
Visit the village vegetable gardens.
Meet local Bairwa women and children and visit their homes.
See examples of local craft and furniture production including rope-making and charpoy-making (Indian rope beds), kite-making using scrap materials and pottery.
Understand how an Indian rural village is run, including the role women play.
Visit the local Hindu temple.
A portion of your tour fee flows directly to the local village community.
Visits by car to other communities in the district can be arranged by appointment.
You can reach Ikaki Bagh by car or a local bus service. Instructions can be provided to you in Hindi and English. We can transport you by arrangement as part of your overall stay or tour.
Ikaki Bagh currently offers clean, comfortable accommodation for up to eight people.
A small camping site with power is also available but this option is recommended for well-equipped and experienced campers only. Modern shower facilities are available. Home-cooked Breakfast, Lunch and Dinner are included in the daily tariff. Chai, coffee and bottled are available along with a limited alcohol service.
Please contact us for further information including tariffs.
Plans are underway to develop up to seven, comfortable and well-appointed free-standing cottages sleeping up to six people each.  Construction of the cottages is due to begin in 2019.
We are improving and building new facilities for the Ikaki Bagh project.
Help create pathways for opportunities
Find out how you can get involved in this worthwhile social enterprise.
Do you want to be a supporter?