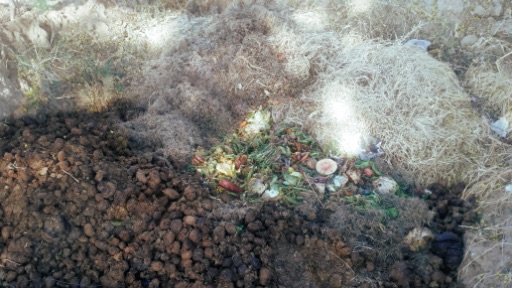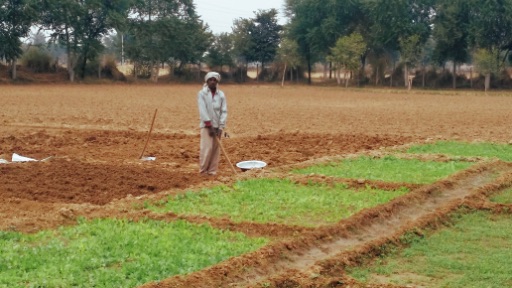 This article discusses:
Sir Albert Howard is widely described as the 'father' of the modern organic movement, as understood in the West

Howard promoted the 'Indore Composting Method', based on his time living in India studying local composting methods

Ikaki Bagh is part of a growing movement re-discovering traditional Indian composting practices
"The health of soil, plant and man is one and indivisible."
Sir Albert Howard (1873 – 1947)
Sir Albert Howard was born and educated in England, graduating in Natural Sciences at Cambridge in 1896. His early career was spent in Barbados, then in 1905 Howard was appointed as the Imperial Economic Botanist to the Government of India.
Howard was appointed to colonial India to teach Western agricultural techniques but found over time that the Indians could in fact teach him more.
In 1924, Howard was appointed Director of the Institute of Plant Industry, Indore, and Agricultural Adviser to States in Central India and Rajputana.
Howard grew increasingly interested in the health of soils and its widespread influence on the health of rural populations, livestock and crops. He promoted what is known as the 'Indore Composting Method', with increasing advocacy and determination.
Howard eventually transformed the insights he gained from farmers in colonial India into the founding texts of the modern organic-agriculture movement: An Agricultural Testament, Oxford University Press (1940) and The Soil and Health (1945)
Inspired by his readings of Howard, a young American named J.I. Rodale launched his seminal Organic Farming and Gardening magazine in the early 1940s. This publication popularised Howard's ideas first in the United States then further afield inspiring generations of organic farmers in Canada, Australia, New Zealand and Western Europe.
The recognition and acceptance of organic farming in Western agriculture has been a battle of persistence, science, social values, politics, economics and an interplay with entrenched non-organic farming entrenched interests.
Indore Composting Method
The principles of composting used by local Indore was taken and refined by Howard, incorporating his own scientific training and research of soil biology. Returning nutrients to the soil and the role of humus in soil fertility to enhance soil quality were central.
The process utilises all the by-products of agriculture, including mixed animal and vegetable wastes and would ash to produces an essential manure.
Howard's The Soil and Health (published 1945) became a deeply influential text in the Western organic movement. He argued that industrial agriculture, with its reliance on non-organic inputs, especially chemical fertilisers, disrupts the balance of nature and inevitably degrades soil of its fertility.
His argument that we must all respect and restore the health of the soil for future generations. This still resonates strongly for people concerned by the impacts of chemically enhanced agriculture. It also foresaw the issues of ecological restoration and the interface between agriculture and the environment.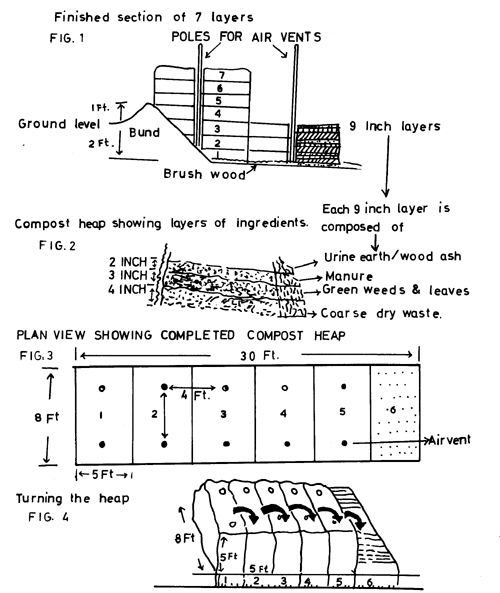 Figure 1. Indore Composting Method
Composting at Ikaki Bagh
At Ikaki Bagh, we have been steadily building our experience and expertise in composting. We're focused on an essential mix of brown and green waste, with regular aeration to help the breakdown of material and encourage growth in earthworms.
Activities include:
Building our first composting facilities in 2017

Utilising all green waste from Ikaki Niwas, our boutique hotel in Jaipur

Supplementing our soil inputs with externally sourced organic manure only

Registering as an 'Individual Producer' by the Rajasthan Organic Certification Organisation (ROCA), State Government of Rajasthan, in April, 2018.  ROCA's certification standards are endorsed by the United States Administration (USDA)
We are also fortunate to have the advice and support of Dr Rouhangiz Hayati Dahiya, PhD (India), Horticulturalist & Vice-Chancellor, Jyoti Vidhyapeeth Women University.
Composting is a critical priority for Ikaki Bagh. We would especially like to welcome people with practical experience of composting and soil health and fertility in organic farming to visit Ikaki Bagh.
If you'd like to know more about Ikaki Bagh, please send us a message using the form on this page.
You can also call us at the numbers listed below.
Help create pathways for opportunities
Find out how you can be involved in this worthwhile social enterprise.