Our Wonderful Stay at Ikaki Niwas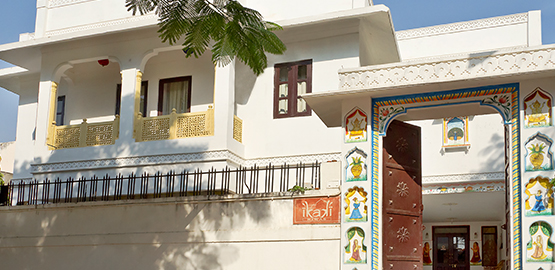 A popular place to stop on a trip through India (especially for first-timers) is the Pink City of Jaipur. The city is home to old forts, incredible architecture with buildings painted in pink, monkey temples, and bursts of color at every turn. On our journey through Rajasthan, we knew we had to come and explore Jaipur.
One of the things I wanted to do most while traveling through India was to stay at a traditional Haveli-style hotel. I knew that staying at one of these hotels was really part of the India-experience, and I'd regret it if I didn't book at least one stay during my trip. Through a search online, I came across Ikaki Niwas, and from the photos, fantastic reviews, and reasonable prices, I knew right away that the hotel was perfect for us. I had no hesitation in booking, and couldn't wait to see what was in store.
When we arrived at the airport in Jaipur, we didn't really know what to expect. I read in our guidebook a few pages on what there was to do in the city, and I had seen pictures of our hotel. But, exhausted after traveling from the chaotic, yet, beautiful city of Varanasi, I was more than ready to have a place where I could put my head down and relax in comfort.
As soon as we exited the terminal, we were greeted by our enthusiastic driver. It felt nice having someone to retrieve us, as navigating the cabs and public transportation can be confusing and stressful in the Rajasthani heat. The driver helped us load our bags into the air conditioned car, and we admired the scenes of Jaipur as we made out way to our hotel, which was just a short distance away.
When we arrived to Ikaki Niwas, we were instantly mesmerized by the facade of the building. Located in an upscale neighborhood next to residential homes, you might not guess that this building was a hotel just by looking at it, but it was beautiful. The lights lining the terrace upstairs stuck out to me first because they reminded me of my living room back home.
With a genuine "Namaste," we were greeted by the manager, Johnny, who gave us a brief introduction to the hotel, but also minded the fact that we looked obviously exhausted from our journey, and eager to get to our room. He led us to the third floor where we could find the entrance to our sleeping quarters for the next few days.
Before entering our room, we were taken aback by the beautiful terrace that we had all to ourselves. From the terrace, there was a magnificent view and I couldn't wait to see what it would look like once the sun went down. Johnny led us through two thick, wooden doors to our room, which made me feel as though we were staying at a palace, and I was the princess.
Inside the room, we were amazed by what we saw. Our particular room was designed in a blue theme, which provided an immediate sense of tranquility. There were any pillows on the four-poster bed, two with matching blue peacocks printed on them. The chandelier and the lighting in the room made for an intimate setting, and I knew it wouldn't be hard to fall asleep here. Blue tiling led into the bathroom, which was fit for a king and by far the nicest bathroom we had the entire time in India. I was looking forward to having a bath while I was here.
In the meantime, Johnny asked us if we'd like any tea of coffee before dinner, so we happily accepted. Before heading downstairs, I sat down on the little chair on the terrace, overlooking the Arabian-nights view while I wrote a few notes in my journal.
"This is the welcome I was hoping to receive in India, but especially in Rajasthan. The weather is brisk – not humid at all – just a warm feeling with a nice breeze. I may even need a sweater!"
We went downstairs to have our delicious masala tea served by a man dressed in traditional attire, and we came to learn that his name was Dinesh and we'd get to know him well over the next few days at the hotel. As we sipped our tea, we were thrilled to hear from him that dinner would be served soon as well. The atmosphere in the dining area which led out to another stunning terrace, was unlike anything we had experienced in India up until that point, but the only way to describe it was true Rajasthani hospitality.
As we ate, the owner, JD, came over to introduce himself and tell us a little bit more about the hotel. He told us how he built it from the ground up and wanted to create a place where people could come to eat and enjoy, sit on the floor, relax, and make connections with other guests. I could tell that this was very true, as at that moment, JD introduced us to another couple staying at the hotel. This couple invited us on their sightseeing tour the next day, and we quickly became like family while we were at Ikaki Niwas. This is what JD was talking about.
Finally, it was time to say goodnight. We walked up to our room and quickly fell asleep in our comfortable bed. The next morning, we awoke as the sunlight filled our room. Feeling restful from a good night's sleep, we were ready to start our day. Before heading downstairs for breakfast and to meet our new friends, we took a self-tour of the hotel. There were lots of different sitting rooms. My favorite was the library, which had plenty of books left from travelers who had passed through the hotel. I could have spent all day just in that room, but, we had places to go!
At breakfast, we were welcomed again by Dinesh with tea, coffee, and juice, and a massive smorgasbord of food. Outside on the terrace, Dinesh had laid out lentils to dry in the sun next to the hotel's swimming pool, where pigeons sunbathed enjoying the warmth, too. We met up with our friends, and after feeling nice and full, we left together to explore Jaipur.
After a long day of seeing what Jaipur had to offer outside of our hotel, we were looking forward to yet another restful and calm evening at Ikaki Niwas. When it was eventually time for us to check-out of the hotel and head on to our next destination, the staff led us out as if we were VIP guests. Saying goodbye not only to the staff but the friends we made during out short stay at the hotel was difficult, and for the remainder of our stay in India, no other hotel matched the experience we had here.
If during your stay in India you'd like to get the Rajasthani welcome that the guidebooks rave about, you'll find it here.