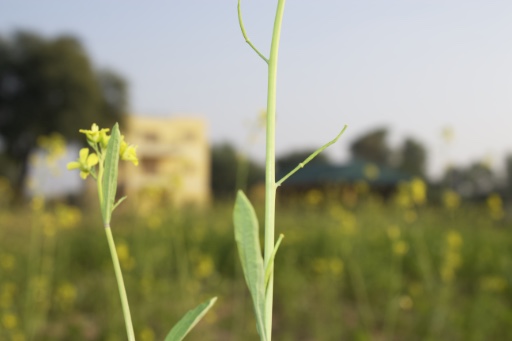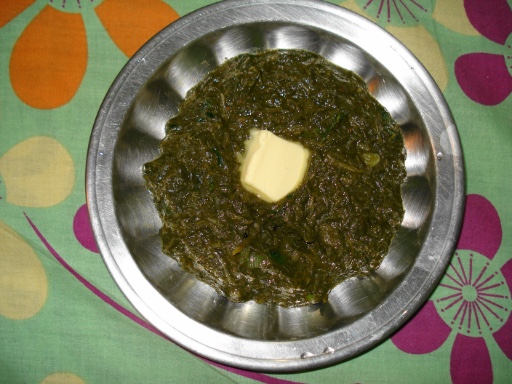 This article discusses:
Mustard is one of the most important cash crops grown in India and Rajasth.an is the country's largest producer.
Ikaki Bagh grows mustard as part of its conversion to a model organic farm.
Local harvesting, production of mustard oil and its use can be experienced first-hand by visitors to Ikaki Bagh.
India's patterns of oil seed consumption are changing and there is an interesting large scale Australian connection with this story.
Mustard in Rajasthan
Mustard, known as sarson in Hindi,  is one of the most famous and important crops grown in India.
Seeds from the mustard plant are a rich source of protein and oil. The seeds are renowned as a spice, cooked whole until they pop, or ground in to a powder. Mustard greens (known as saag) are widely used in vegetable dish preparations.
A most famous dish, sarson ka saag, is a popular delicacy in Northern India.  It is only available in December and January and involves cooking the leaves with Indian spices and is usually served with makki di roti, flat, unleavened bread.
Rajasthan is one of the largest mustard producing states. In 2016, farmers sowed mustard on 2.4 million hectares with a total yield of approximately 3.5 million tonnes. This represented around 47 per cent of national production.
Various hybrid species of mustard are used variously producing black, brown and yellow seeds.
A large part of mustard production is used for cooking oil. However, the popularity of mustard oil is reducing in the face of ever increased demand for cooking oil and imports of other vegetable oils such as canola and palm oil rise steadily as local production falls.
A commercial market for organically certified mustard oil exists in India, especially for high quality cooking purposes and potentially cosmetic products.
Culturally, mustard oil was once widely used as hair oil, especially on school children. Because of its thickness, this use of mustard oil is no longer popular. Traditionally, mustard oil was also used as fuel for lighting in earthen lamps used in celebrations such as Diwali and weddings and in home-made cosmetics.
Mustard oil is not used for religious purposes with people preferring ghee or sesame oil.
Growing Mustard at Ikaki Bagh
Mustard has traditionally been a mainstay crop at Ikaki Bagh alongside wheat and lentils.
Mustard continues to play a major role in the conversion of Ikaki Bagh to a model organic farm. It provides important income and there are future opportunities for mustard grown at Ikaki Bagh to be labelled 'certified organic'.
At Ikaki Bagh, mustard is planted in November/December and harvested from the end of March through to April.
Mustard crops are a spectacular sight with a sweeping carpet of bright, yellow flowers and green leaves. At this stage, the plants are excellent for bees.
By harvest time, the mustard plants will have browned off after taking between 110 and 140 days to mature.  The plants pods will have turned yellow indicating the seeds will be hard. Harvesting takes place in the morning using sickles to cut the plants close to the ground and minimise damage to the crops.
The harvested plants are then stacked to dry over seven to ten days, after which they are taken to a nearby small town where they are threshed to separate the seeds from the chaff using propellers. The mustard grains are then cold-pressed to extract the oil. The crushed, left over seed casings are still rich in oil and are then mixed with mixed with millet chaff and wheat flower and used as animal feed.
Visitors to Ikaki Bagh during the mustard growing and harvest season are welcome to participate in a variety of ways including:
Helping with the mustard crop
Visiting a nearby town to see the threshing and cold-pressing process first-hand
Learning how to cook sarson ka saag and other dishes using mustard spices
Postscript from Australia
An Indian-born Australian entrepreneur, Mr Dhruv Deepak Saxena, commonly known as DD has established a state-of-the-art oilseed crushing and refining plant in the inland city of Wagga Wagga, in the state of New South Wales (NSW), Australia. The Riverina Oil & BioEnergy Company now produces half the state's refined oil production.
This major development was established in direct response to the export opportunities provided by India's demand for high quality, refined vegetable oil. The factory has a crushing capacity of 500 tonnes of oilseed per day and only uses Certified Non-Genetically Modified Canola.
This capacity has the potential to produce over 200 tonnes of high quality, refined oil and 300 tonnes of premium protein meal each day for poultry, dairy and animal feeds industries.
Riverina Oil & BioEnergy Company exports to the USA, New Zealand, India and South-east Asia.
This success indicates the demand and opportunity in India for responsibly grown agricultural produce. This is the driving motivation for converting Ikaki Bagh to a model organic farm, as an example for local farmers to emulate.  Mustard growing will play a central part.