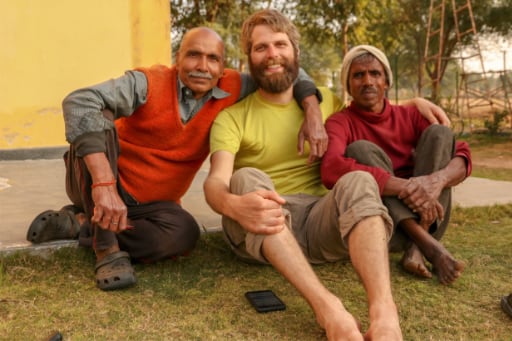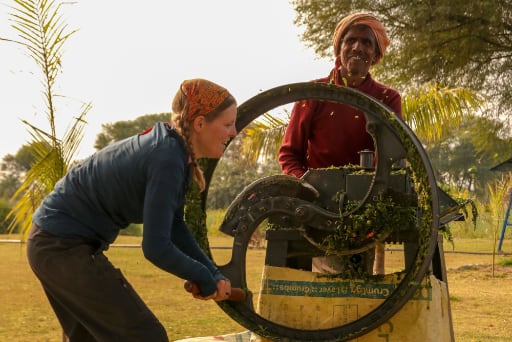 Article highlights
Charly and Anna recently spent two weeks working at Ikaki Bagh. This is their story.

They volunteered as part of WWOOF, "a worldwide movement linking volunteers with organic farmers to promote cultural and educational experiences based on trust and non-monetary exchange"

Ikaki Bagh is steadily building its Volunteer Program – all are welcome
This is our first time traveling in India, so we wanted to ease ourselves into this wonderful land of color and chaos.
We decided to volunteer at Ikaki Bagh for two weeks through the WWOOFing program (World Wide Opportunities on Organic Farms), a way to spend time in a rural setting, get to know people, and use some of our skills in farming and sustainability.
We are from Washington State in the United States, where we both worked in the environmental field conserving wild lands and applying organic gardening techniques at our home.
Our time at Ikaki Bagh has been a wonderful learning experience, and we have had so much fun working with Kaka and Kokil, the two farmhands who live and work on the farm. With sustainability and organic practices in mind, we have completed several projects here.
Water is the primary limitation in this desert landscape, and the water table fluctuates between 200 and 500 feet deep. To conserve this precious resource, a priority at the farm was to install a drip irrigation system to water all the fruit and wood trees.
Drip irrigation is a more efficient way to deliver water to the base of each tree without flooding the soil and losing water through evaporation. We were able to successfully install a dozen or so drip lines to water several hundred trees. As these trees mature, they will also help save water by creating a cooler and more humid microclimate.
Another project we worked on while at the farm was to apply vermicompost to all the fruit and wood trees. Vermicompost is an organic fertilizer that uses worms to break down farmyard manure into rich soil full of beneficial nutrients which promotes healthy tree growth. Decomposing cow manure creates a sustainable system that reduces waste, while simultaneously increasing soil health by adding essential nutrients and loosening hard-packed soil. It is the hope that it will give a boost to fruit trees and stimulate higher and more healthy yields.
It has been our delight to help Kaka and Kokil with regular farm chores as well. Many of the things they do on the farm are already sustainable.
A daily task is to weed the rows of vegetables, fruit trees, and mustard fields. With several acres of land, this is a big project. These weeds are then chopped by hand and fed to the three cows and three horses each day.
Village farmers also feed their livestock in this way, as pastures are not a viable use of space or water in such an arid landscape. Water runoff from the roof is used to recharge the aquifer. Cows are milked every day, and the fresh milk is used to make the delicious chai, and given as a growth booster for the batch of small puppies that are currently at the farm.
Harvesting vegetables is also a daily task, and they are used in the array of delicious meals Kaka comes up with for dinner, paired with Kokil's stellar chapatis. We could not have asked for sweeter people to teach us about how to farm in India, and even play a game of badminton or two with us.
We have loved spending time in this agricultural community, so full of welcoming people. We have had a lot of fun visiting family farms in the village, learning about the crops they grow, and the challenges they must overcome to successfully make a living in this extreme environment.
While visiting numerous families for a cup of chai, it was very evident they were proud of their village and their beautiful farms. The warmth of everyone here, and their willingness to share their farms and homes with us, will give us fond memories for years to come.