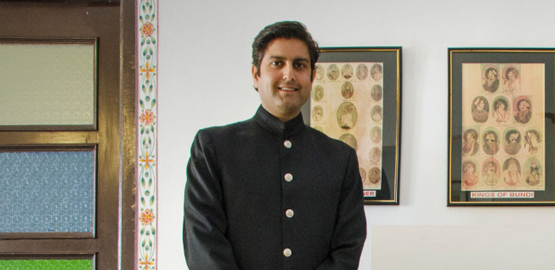 Some might call Ikaki Niwas a "boutique hotel." Some might call it a "family-run" hotel. But, according to the owner JD Rathore, what Ikaki Niwas definitely can't be called is a "box hotel" — this place has character.
I sat down with JD to talk a little bit about his family's hotel and how they turned it into the oasis it is today.
First, I asked JD about the hotel's name and where it came from. He said it's a character in Hindi, which might be translated to "of one" or rather, "alone" or "solitude." While these terms might have a negative connotation to it, those who have spent any time in crowded India may think otherwise. The location of Ikaki Niwas allows guests to simply be alone and relax a little bit away from the bustling center of Jaipur, without being too out of reach.
Something else that was unique? The way "Ikaki" looks on paper. Take a closer look, and you'll see that it's spelled as a palindrome, a word that has a continuous flow to it, no matter which way you look at it. The name is therefore easy on the eyes, too, just like the hotel itself.
At first glance at the stunning exterior and interior of the hotel, it would be hard to believe that the hotel once stood on a farm. In fact, JD even pointed to the office and said, "There used to be cows there!"
Additionally, JD takes pride in knowing that his guests are welcomed like family from the moment they arrive. When you walk inside, you'll be greeted graciously by the staff members and shown to your room as if you're the only guest in the hotel — something else that perhaps "Ikaki Niwas" can be loosely translated to — "Only…"
JD says that his hotel should feel like a mixture of all kinds of hotels. Once you arrive in your palace-like room, you'll first sense that it is like a boutique hotel. Each room at Ikaki Niwas is intricately decorated in different patterns, designs, and colors, which right away provides serenity for the guests. On each floor, there is a sitting room with comfortable sofas, tables, lamps, and antiques. There is also a library, filled with books from travelers who have come and gone. Sitting in one of these rooms — or on one the two terraces — will give you a chance to really enjoy the present, instead of getting stuck about planning your next destination; no doubt a common theme for travelers to India.
But, there are some little touches that you might find at a box hotel in your room. For instance, you'll find all of the amenities you would hope to have while on vacation. The little bottles of toiletries are there on the tile vanity. The towels are folded nicely and there is toilet paper in the room, so you don't need to call downstairs and ask. There is TV and internet, and an air conditioner that's not blowing directly over your face whilst you sleep. Food served at the restaurant is made with ingredients from the family farm, and you can drink the water without worrying about becoming ill. The shower is hot at a nice water pressure, and there is even a closet to unpack your clothes, which is a nice relief from the many hotels that don't have that option. But, unlike a box hotel, which can often feel suffocating, JD says that not having to compromise on comfort — a common problem at hostels as well — should be the main takeaway for travelers staying at Ikaki Niwas.
But, there is something that a hostel provide that JD didn't forget to include in his hotel, and that's community.
Part of Ikaki Niwas being your home away from home, is that you won't feel like a stranger at a hotel. You'll truly feel like a guest in a loving relative's home, where you'll quickly make friends with other guests. In addition to taking part in a cooking demonstration, there are yoga classes, folk dances, festival parties, a swimming pool, and so many more activities available for guests as well as non-guests of the hotel. But, you don't need to partake in any of those to belong to the family here. Just by coming down for lunchtime (or, rather, "coming up," as meals are served on the roof), you'll be sure to meet other kind guests and staff who all make Ikaki Niwas what it is.
So, maybe Ikaki Niwas doesn't exactly stand for "solitude" but instead, "of one."
One community, one family, and if you come here alone, one amazing experience all to yourself.
This is what you can expect to have at Ikaki Niwas.